Auburn Manor
Chaska
 
Auburn Home
in Waconia
 


Need More Info?


Auburn Manor Chaska
501 Oak Street N
Chaska, MN 55318-2072
 
Michele Huber
Social Service Director
952-361-0312
Email: amadmissions@
auburnhomes.org
 
 


Helpful Links


www.aging-parents-
and-elder-care.com
 
www.alz.org
 
www.co.carver.mn.us/
departments/CSS/
seniorservices/ltcc.asp
 
www.ci.victoria.mn.us/docs
/services_for_seniors.pdf
 
www.minnesotahelp.info
 
 


Dignity, Choices, Values


At

Auburn Manor

, we value the simple things. Life is meant to be lived — with dignity, choices, care and genuine concern. Residents become part of our extended family and staff is dedicated to meeting their cognitive, physical, social and spiritual needs — so that everyone lives life to its fullest.
 
Our team of highly trained nurses and aides continuously monitor our residents and assist them with daily activities.
24-hour nursing staff
Specialized dietary needs and tasty meal options
Physical, occupational and speech therapies
Massage therapy
Short term rehabilitation
Memory care programming
Hospice and end of life care
Licensed by the state of Minnesota and certified as a skilled nursing facility by the Medicare and Medicaid program, Auburn Manor accepts Medicare, Medical Assistance and major insurances.
 


Just Like Home


Nearly everyone remembers having a front porch at some time. So, we built a front porch on every room — a place to visit with family and staff, work on hobbies, take advantage of our free wireless internet service or just simply relax. Residents are also welcome to bring their own furniture to personalize their space — just like home.
 


Staying Active


Auburn Manor is distinguished by our commitment to our residents. Compassionate staff treat residents like they would their own family and engage them in activities — individually and in groups. There are arts and crafts, exercise, and music entertainment available as well as transportation to community events, shops or restaurants.
 


Right Care, Right Time


Auburn Manor is part of the Auburn Homes and Services campus in the heart of downtown Chaska. We strive to meet the needs of all seniors — whether they live independently or need specialized memory or rehabilitative care. We offer a full continuum of care: if circumstances change, residents can move to a different part of the campus to receive the appropriate care. And, in many cases, spouses who need different levels of care live right on the same campus — allowing them to stay connected and enjoy frequent visits with each other!
 


New Spa Room at Auburn Manor


Chaska Rotary supports project with $10,000 gift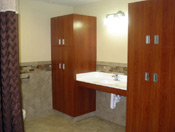 The Auburn Manor community is celebrating the completion of a brand new spa room.
 
"Our residents have been closely following progress of the spa and have been eagerly awaiting the grand opening," Wayne Ward, Auburn Manor administrator, said. "The new spa room offers residents a warm and soothing place to relax and get away from it all... just like being at home."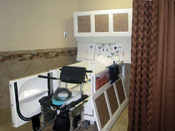 The specialized tub in the spa actually has a door on it for people to easily and safely enter and exit. There is also a reservoir to fill it much faster than a regular tub.
 
"This significantly reduces the time residents have to sit there waiting for it to fill up with warm water," Ward stated.
 
The new spa room was made possible in part through a generous donation from the Chaska Rotary. A significant portion of the funds raised at the Rotary's 2012 Gala went to Auburn.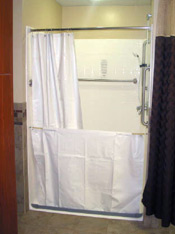 "We are all about supporting community," John Zirbes, Chaska Rotary president, said. "Some of our former Rotarians and a number of our current Rotarian's friend and relatives are living in Auburn Manor. It's just the right thing to do so we came together to help create this area at Auburn for those in our community who rely on their services."

"The Chaska Rotary is an incredible supporter of our work here at Auburn," Paul David, Director of Moravian Care Foundation, said. "We are deeply grateful for all that they do for our residents. They truly live out their mission of service above self."